Munich Hotel Review - The Super 8 Munich West (by Wyndham)
Is the Super 8 Munich-West (by Wyndham) a good choice? Find it out here in my hotel review.
I had the opportunity to test a standard room (double) for one night, including breakfast. Read on the following hotel review to see what I experienced in the Super 8 Munich-West.
Location
The Hotel is located in Munich's Laim district, about 5 kilometres (~3 miles) from the city centre (Marienplatz). The Super 8 is situated about 200 metres (~220 yrd.) from Laim urban rail station where nearly all Munich S-Bahn lines stop.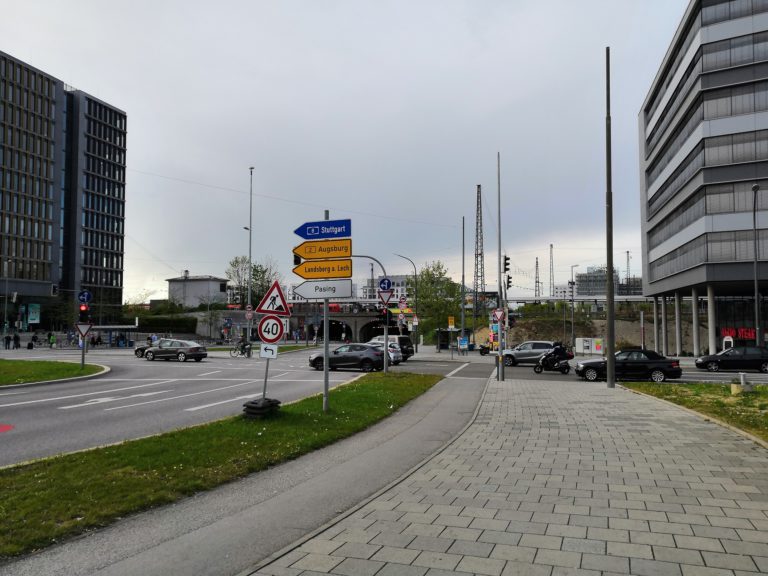 On the picture, the hotel is a few steps to the right. Above the tunnel, the S-Bahn station "Laim" is located. Right next to the station, you can find a steak-restaurant, a starbucks-style coffeeshop and two supermarkets (ALDI, REWE) reachable through the tunnel. From Laim stations it's just one station to "Pasing". There many regional and also national trains stop, so it is ideal to make a daytrip.
The hotel is quite new and it's location is great, especially for travellers coming to Munich for business, people trying to get a good middle class hotel for a rather low rate and budget travellers.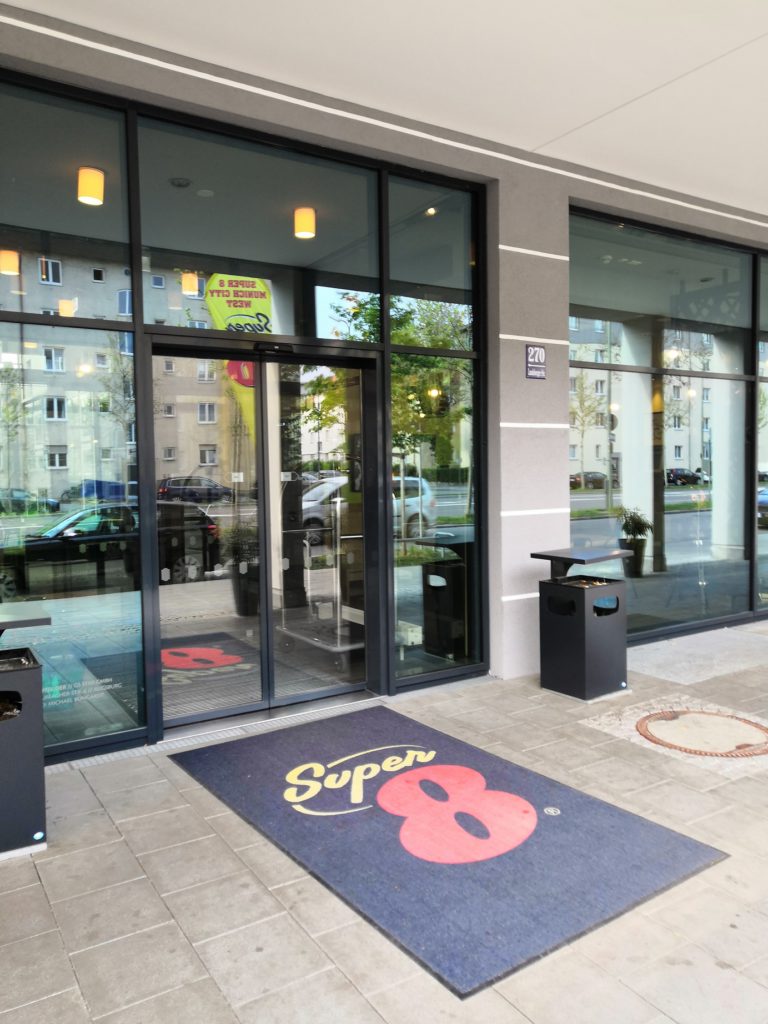 The entrance can't be missed and is easy to find in Landsberger Street in Munich's Laim district. Of course I have to mention Laim district isn't a district known for its nightlife or specific quarter-culture. Laim was a worker's district and is primarily used as residential area. You'll hardly find fancy coffeeshops or hip bars in the quarter around the hotel. Also the Landsberger Street is one of Munich's main arterial roads leading to the city centre, which is great for people coming with their own car or rental for a stopover or using the hotel as a basecamp for daytrips.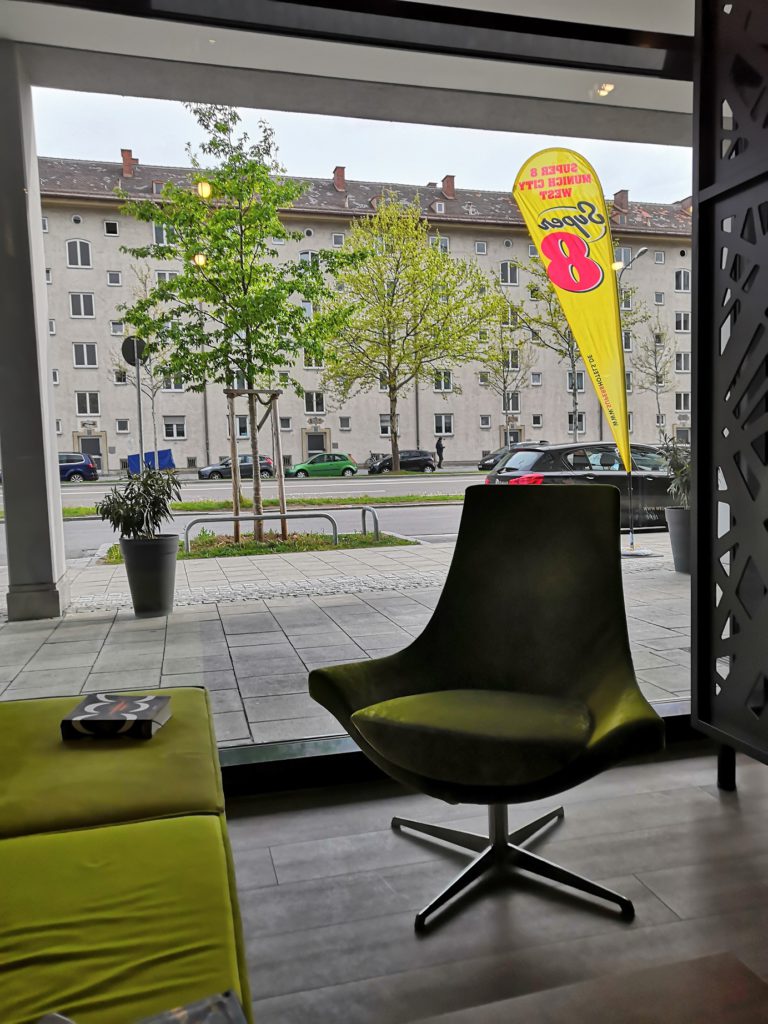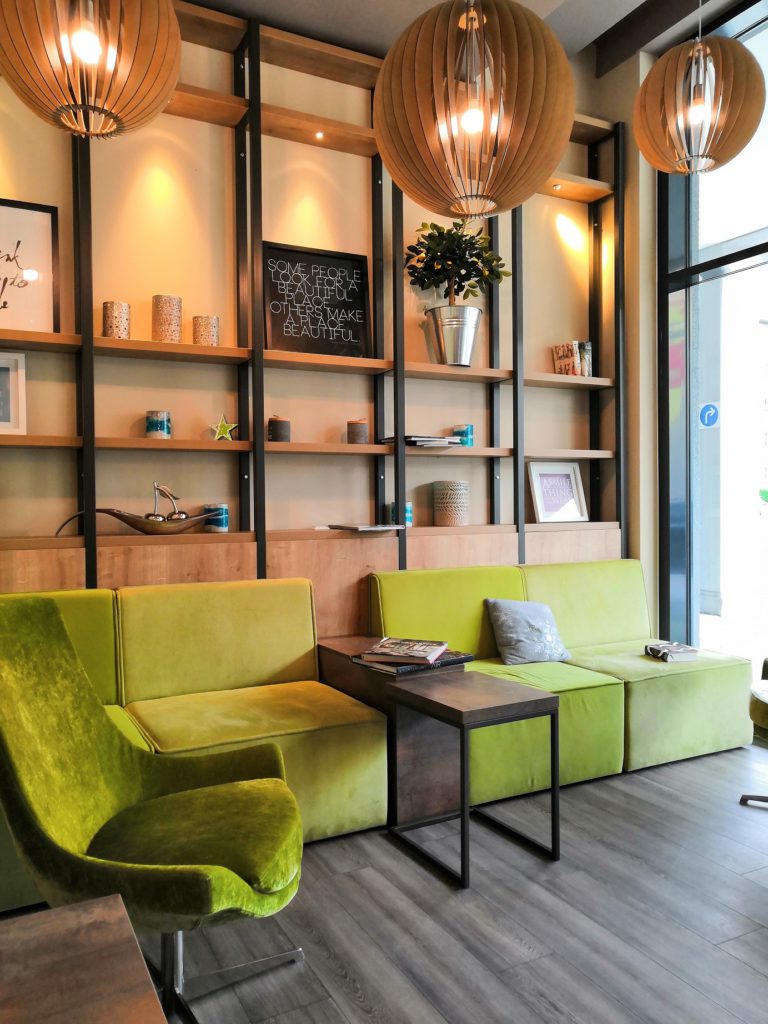 Lobby and Lounge
When you enter the Super 8 Munich-West you will find a small but very nice designed lobby or lounge, the reception and a small snack shop/café where you can have a bite and a hot or cold beverage. I liked the design and how they managed to produced a warm and welcoming atmosphere. Right next to the reception there is the breakfast room and the elevator. This hotel has 6 floors where the rooms are located.
The floors can be accessed with your room-keycard. Just scan your keycard inside the elevator and press your floor number. I realized it is only possible to choose the floor where your room is located (or the lobby). So if you're a group and you have different rooms on different floors, you have to walk the stairs to see your fellow travellers, as the elevator won't allow you to go to a different floor.
Rooms
The room I got was quite nice. It had twin beds (pushed together, so it was actually a king-size-bed), a really nice photo wall showing Munich's Siegestor (Victory Gate) in Schwabing district. Right next to the bed in front of the window stood a table with chair and a bench for luggage.
I had a street-view room on the first floor, which I do not recommend for those in need of an open window during the night. As said, Landsberger Street is a major arterial road to the city center and with lot's of traffic. When the window is closed, it's very quiet. The architects did a good job to to put in anti-noise windows. Fortunately it was a calm sunday, so there was much lesser traffic than during the week.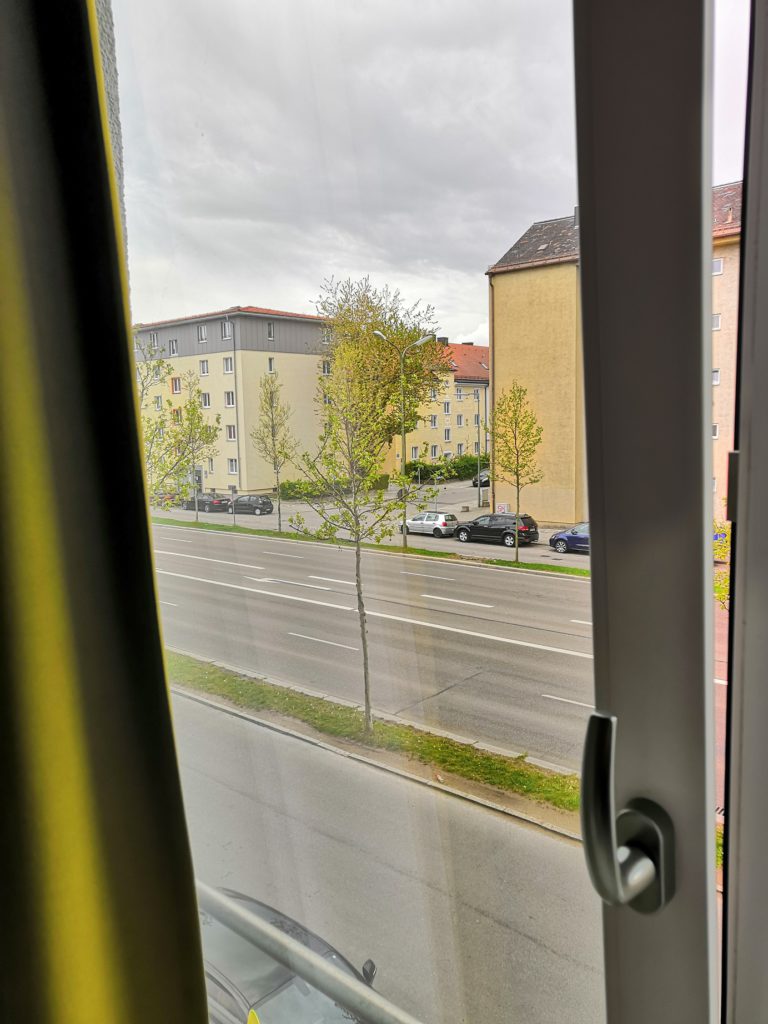 The Bathroom was very good. It had everything I needed. A nice, quite big shower, towels, shampoo/shower gel and hand soap. It is also big enough to fit two people, at least when one of them is taking a shower.
All was very clean. The cleaning staff did a very professional job. Only downside is the toilet, as there is no extra door to have some privacy. Also the bathroom has a huge frosted glass wall in the shower which is nice to have daylight also in the bathroom, but reduces the privacy again.
Room Equipment
The room was also equipped with a telephone, a hair dryer, a safe, a wardrobe, air condition and a flat smart-TV. I also liked the hall with the wardrobe, as there were collapsible shelfes right next to the long mirror. Unfortunately a closet was missing. Therefore a longer stay could get a bit annoying living out of your luggage.
WiFi is free of charge in the entire hotel. The flat-TV was the hotspot, meaning every room has it's own WiFi hotspot and therefore a very good connection. A very smart idea in my opinion. Unluckily the safe is quite tiny. It is not possible to lock a laptop or a tablet, but it will work really fine for wallets, passports, jewellery, smartphones etc..
An iron was missing as well as a kettle or other tea/coffee making facilities. When I read through the information of the hotel, I saw it is possible to borrow an iron or a kettle from the reception for a deposit of 20 EUR (ca. 23 USD, 17 GBP). That's nice they offer this.
I also liked the smart-TV. Through the TV you can access all hotel based information but also watch TV (also some English programmes, mainly news channels like BBC or CNN) or even surf the internet. The Welcome-screen also has a "Discover Munich" site, but unfortunately there was no content on this site. I hope they will soon add content.
I slept very well in the bed and had a nice warm shower before heading down to the breakfast room. When you check in and opt for breakfast (9 EUR/person; ca. 10 USD, 8 GBP) you will be given credit-card sized vouchers. These you have to hand over to the breakfast staff. This system was quite new for me, but everything worked out as described.
Breakfast
The breakfast room was quite huge. I didn't expect such a big buffet-style breakfast in a budget-hotel. There were lots of things to choose from and start your day either with a continental breakfast or an English/American breakfast. Breakfast is available between 6:30 am and 10 am (11 am on weekends).
Ham, sausages, eggs, baked beans, toast, frankfurters, Bavarian white sausages, cold cuts and different types of cheese were on the savoury side while on the sweet side you could choose from different jams, nutella, honey, fruit salad, yoghurts, chocolate croissants, warm belgian waffles and more. But my favourite was the fact you could mix your own yoghurt. You could take plain yoghurt and add different cereals as well as jam or three types of fresh fruit puree (white peach, mango and strawberry). This is something I never saw in a budget or business hotel. Thumbs up!
All in all the breakfast flashed me a bit. It's very seldom to see such a huge variety of different breakfast items. Also the staff on duty was extremely friendly and helpful and did a very good job. Only one minor thing is to improve. There are just two coffee machines. So during the breakfast rush hour between 7 am and 9 am, you will sometimes have to wait in qeue with 5 people in front of you waiting for the machine to produce coffee, cappucino or other coffee varieties.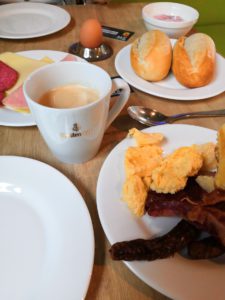 Conclusion
The stay at Super 8 Munich-West was really nice. Especially the breakfast was outstanding. I would recommend this hotel to business travellers, travellers looking for a fair price and those who do not necessarily need to stay in the city centre.
As the urban rail station Laim is just around the corner, it is very convenient to take the S-Bahn to the city center (ca. 10 minute ride with the S-Bahn). Also Laim station is very convenient for travellers heading from or to Munich International airport.
Very convenient is also the fact you have to check out by noon, which is quite late compared to other hotels where check out is at 11 am or even 10:30 am.
Do you have any thoughts you want to share? Contact me via Email or WhatsApp (see footer).
Ratings
TheSuper 8 Munich-West has very good ratings throughout the Internet:
Google: 4.1 (of 5)
Booking: 8.3 (of 10) "very good"
tripadvisor: 4.0 (of 5) "very good"
Holidaycheck: 4,4 (of 6)
Expedia: 4.1 (of 5) "very good"
trivago: 8.2 (of 10) "very good"
Agoda: 8.3 (of 10) "Fantastic"
Andy's Munich Tours Rating:
Public transport connection?
Staff (friendly? helpful?)
Airport-connection (Munich Intl. Airport)